Pokémon Emerald Version is a 2004 role-playing video game developed by Game Freak, published by The Pokémon Company and Nintendo for the Game Boy Advance. It was first released in Japan in 2004, and was later released internationally in 2005. It is an enhanced version of Pokémon Ruby and Sapphire and is the final game of the third generation of the Pokémon video game series.
The gameplay and controls are mostly unchanged from previous games in the series; players control a Pokémon trainer from an overhead perspective. As with Ruby and Sapphire, the player's general goal is to traverse the Hoenn region and conquer a series of eight Pokémon Gyms in order to challenge the Elite Four and its Champion, while the main subplot is to defeat two criminal organizations attempting to harness a legendary Pokémon's power for their own goals. Along with Pokémon that debuted in Ruby and Sapphire, the game incorporates Pokémon from Pokémon Gold and Silver not featured in Ruby and Sapphire.
Emerald's reception was generally positive upon release.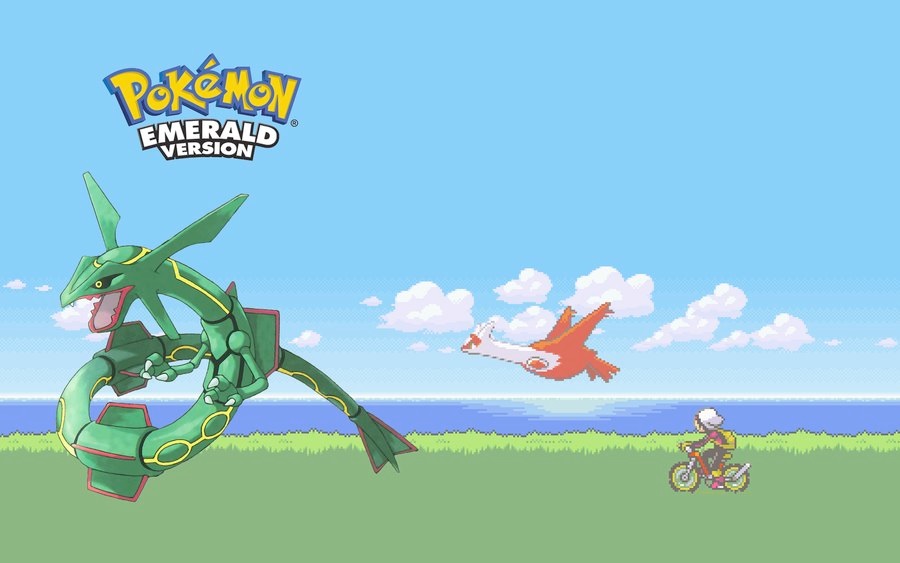 The gameplay in Emerald is largely the same as in Ruby and Sapphire. Much of the game takes place in an overhead style; players' characters can move in four directions and can talk to other people on the overworld. Players can encounter wild Pokémon by walking into grass, surfing on their Pokémon, walking through caves, and other means. They can also battle other trainers' Pokémon. When this happens, the game shifts to a battle screen where players and their Pokémon are seen on the front-left portion of the screen while opponents are viewed on the back-right portion. Stats of the Pokémon and their trainers are shown on the side of each participant; these stats include the Pokémon's levels, each trainers' number of Pokémon (from one to six), the Pokémon's health, and any status effects, such as poison, paralysis or burn. Trainers send out the first Pokémon in their party and they take turns attacking where the first strike is determined usually by the speed of the two Pokémon. Players can choose from one of four options: Fight, Bag, Switch, and Run. Each Pokémon has up to four moves that they can use, which have different effects, number of uses, and types, such as Grass or Psychic. When a Pokémon hits 0 hit points (HP), they faint, forcing the Pokémon's trainer to switch out. Once one trainer runs out of Pokémon, the battle is over. When a human-controlled Pokémon wins a battle, the Pokémon gains experience. Enough experience will earn that Pokémon a higher level, which grants upgraded stats—attack, defense, special attack, special defense, HP, and speed—and sometimes grant new moves.
Certain battles allow for two-on-two battles; certain moves were designed to support partners while other moves are capable of attacking two or more Pokémon. Unlike Ruby and Sapphire which had the player fight two specific trainers, Emerald allowed for the player to have a 2-on-2 battle with two trainers both of whom they could usually battle separately. Every Pokémon has an ability that often aides in battle, such as abilities that make a Pokémon more powerful if they are close to fainting. Wild Pokémon encountered by players can be captured using items called Poké Balls, which have a greater chance of success the weaker the wild Pokémon is. Players can battle and trade with others using any of the third generation Pokémon games including Emerald, Ruby, Sapphire, FireRed, and LeafGreen by linking their Game Boy Advance systems together. This can be accomplished either by using a Game Boy Advance Link Cable or by use of the wireless adapter that was bundled with FireRed and LeafGreen. It is also compatible with Pokémon XD: Gale of Darkness. This allows players to trade for Pokémon not normally obtainable in Emerald.
Aside from the traditional battle and overworld style, players' Pokémon are also able to participate in Pokémon Contests where they can try and win in five contest categories: "Cool", "Beauty", "Cute", "Smart", and "Tough" competitions. The players' characters are given a device early on called the PokéNav, which allows players to view the world map, check their Pokémon's contest stats, and make and receive phone calls with trainers that they have met with whom they can chat or plan a battle. This replaces a function called "Trainer's Eyes", which allows players to register certain trainers and see when they are in the mood to battle. This also allows players to rebattle Gym Leaders, an ability not found in previous Pokémon games. Emerald includes several other new features and changes such as animations of Pokémon in-battle and an area called the Battle Frontier which is an expansion of the Battle Tower found in previous games. A man whom players encounter several times throughout the game will eventually allow them to access the Battle Frontier after beating the Pokémon League Champion. The Battle Frontier features the aforementioned Battle Tower in addition to six new areas. Completing these areas awards players with "Battle Points" which can be spent on prizes to use in and out of battle. The Japanese version features compatibility with the Nintendo e-Reader; however, this was cut for the English release due to its lack of success. Also featured is the Trainer Hill area which, in the Japanese version, is compatible with the e-Reader. Rare Pokémon that originated from earlier Pokémon games such as Mew, Lugia, and Ho-Oh were made available through an in-game event.
DOWNLOAD: Pokémon Emerald
BACKUP LINK: Pokémon Emerald