DuckTales 2 is a platform video game developed by Make Software and published by Capcom. It is a sequel to the original DuckTales based on the Disney animated series of the same name. It was released on the Nintendo Entertainment System in early 1993. The title was ported to the Game Boy handheld system in Japan and North America at the end of the year.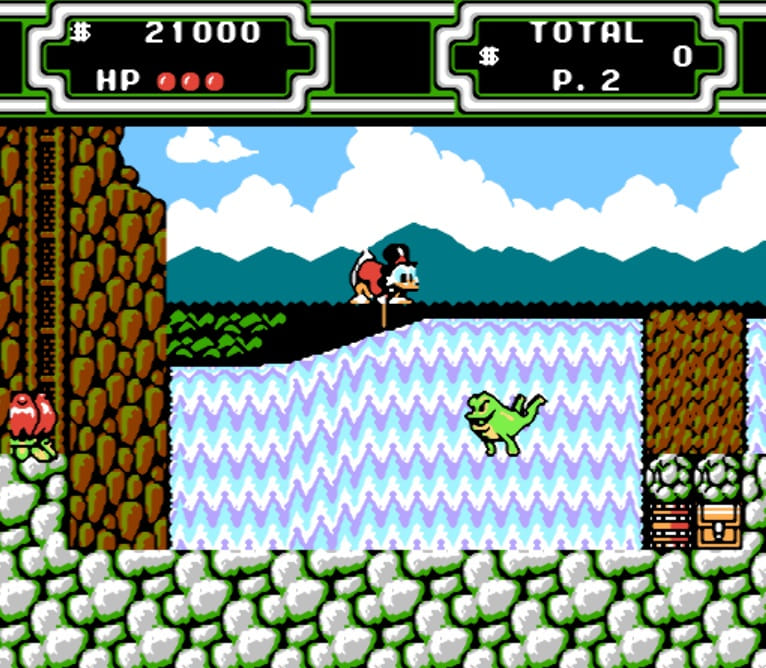 Like its predecessor, DuckTales 2 is non-linear and allows the player to choose and complete all levels in any particular order. The controls are the same as the previous game, albeit the cane jump is easier to perform. Scrooge can now use his cane to interact with various objects, such as pulling levers, firing cannons and using springy flowers to cross large gaps. Other new mechanics include hooks that Scrooge can hang from and rafts that can move Scrooge across water.
Unlike the first game, the player can return to a level that has already been completed to collect more money and items. In addition, upgrades for Scrooge's cane can be obtained from Gyro Gearloose to grant the player access to new and hidden areas in each level. When a level is completed, the player can visit a store to buy recovery items, extra lives, and other such items using any money the player has collected.
In addition to the unique treasures, each stage has a piece of the map that is hidden in a treasure chest. Locating all of the map pieces is not required to complete the game, but collecting all of them opens up an optional sixth stage in which the lost treasure of McDuck can be found.
DOWNLOAD: DuckTales 2
BACKUP LINK: DuckTales 2