[PC Game] Command & Conquer: Red Alert 3
|
Command & Conquer: Red Alert 3 is a real-time strategy video game developed by EA Los Angeles and published by Electronic Arts. It was released in October 2008 in the United States and Europe for Microsoft Windows.
Like the previous entries in the Red Alert series, the game is set in an alternate reality from World War II, in which the Western Allies fight the Soviet Union. In Red Alert 3 the Soviet leadership, facing defeat, goes back in time to kill Albert Einstein and prevent his assistance to the allies, paving the way for Soviet domination in the present. However, as an unintended consequence, a third world power, the Empire of the Rising Sun, is created and all three sides go to war. The three factions are playable, with the gameplay involving constructing building and factories, gathering resources and training armies to defeat other players. Each faction has a fully co-operative campaign, playable with either an artificial intelligence partner or with another player online. The game intersperses strategy missions with full motion video footage featuring an ensemble cast starring J. K. Simmons, Tim Curry and George Takei as the leaders of the three factions.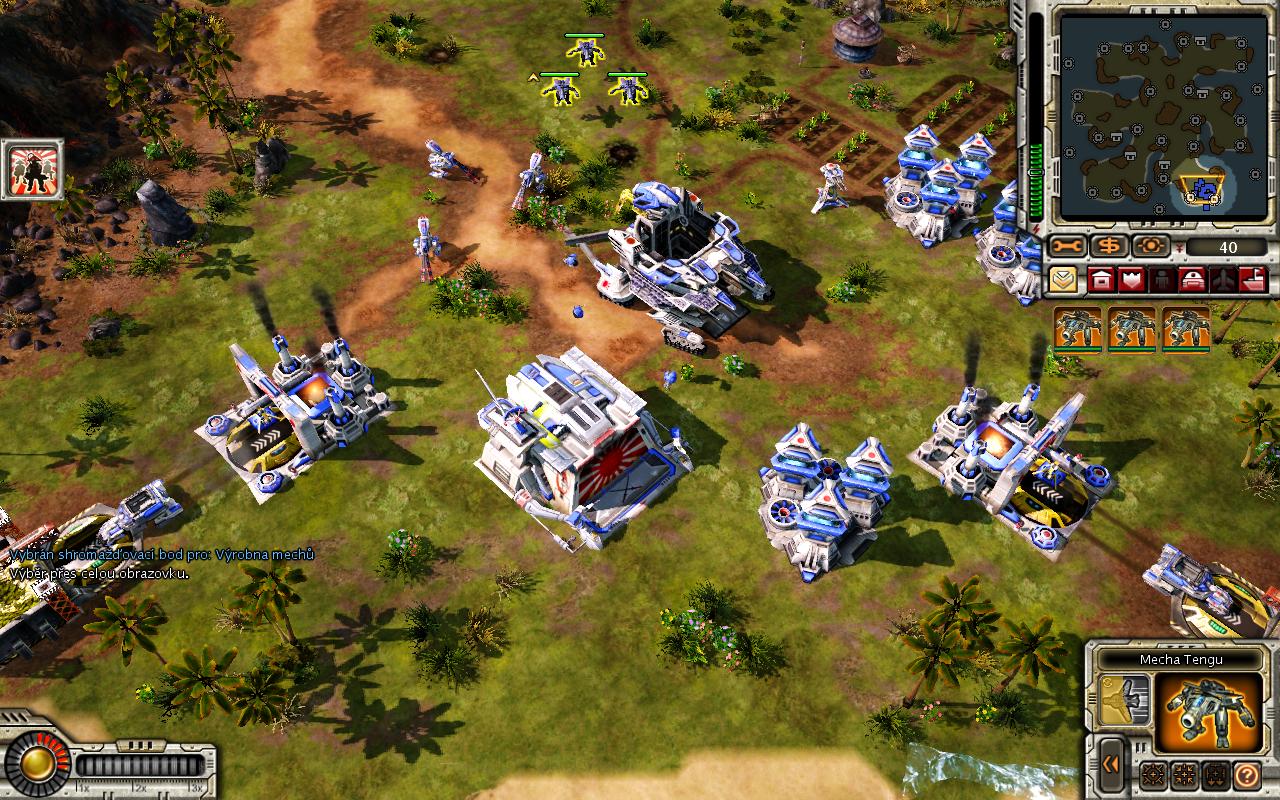 Red Alert 3 retains the core real-time strategy mechanics of the Command & Conquer series. Warring factions harvest resources using vulnerable collectors and use those resources to construct military bases and forces on-site. Structures form a shallow but wide tech tree with a variety of units and elusive superweapons. Weapon types are specialized to the point where a rifleman can withstand direct hits from an anti-tank cannon. Red Alert 3's major refinements are the addition of the Empire of the Rising Sun to the factions of the sub-series, a co-operative campaign, and expanded naval warfare.
The single-player campaign is fully co-operative. Each mission is played alongside an ally. These can be played online, with another player. Offline it is one of several computer-controlled characters. Teams share income and generally start with the same forces. Computerized characters can be given simple commands, such as an order to take a specific position or to strike a specific target. The campaign has nine missions for each side. Each side's plotlines are mutually exclusive.
Naval warfare is emphasized as another front. Executive producer Chris Corry has stated that many units are amphibious, trading effectiveness for increased flexibility. Buildings and entire bases can be constructed on water, save for such things as ground or naval unit production facilities (e.g. tank factories are ground-only, but tsunami tanks are amphibious and can be produced in Naval Yards), and players who "ignore the ocean [are] likely forfeiting a significant part of their potential economy to their opponents". Further stressing this is the fact that, despite some campaign maps being entirely land based, all multiplayer maps have significant bodies of water in them. The use of naval units and various unit abilities also helped players counterattack their opponent's units specific to that unit's strongpoint.
Almost every unit in the game has a secondary ability. Their usage varies: some are toggled on or off, others are targeted, and still others are triggered the instant one presses the button. The Imperial King Oni can bull-rush enemy units as a secondary ability, a Soviet Hammer Tank can toggle between a tank gun and a laser beam that can leech HP from enemies, and an Allied Athena Cannon can engage its energy shields with a button press but with a cooldown period before they can be used again. All abilities are bound to the same key. The game also features experience points that are used to upgrade unit types and to buy "commander abilities", which call in air strikes, recon sweeps, magnetic satellite beams, etc. Commander abilities have no resource costs but do have significant cooldown periods.
Ore fields as resource sites have been removed. These originated in the first Red Alert as a functionally identical equivalent to Tiberium, and what were ostensibly strip mines had ore growing out of the ground. Gameplay mechanics have not changed a great deal since fields have been replaced with stationary ore mines. Strategic ore refinery placement and covert refining are impacted to an extent.
DOWNLOAD: Command & Conquer: Red Alert 3
Password: khiphach.info
BACKUP LINK: Command & Conquer: Red Alert 3