[PC Game] Diablo II: Lord of Destruction
|
Diablo II is an action role-playing hack-and-slash computer video game developed by Blizzard North and published by Blizzard Entertainment in 2000 for Microsoft Windows, Classic Mac OS, and macOS. The game, with its dark fantasy and horror themes, was conceptualized and designed by David Brevik and Erich Schaefer, who, with Max Schaefer, acted as project leads on the game. The producers were Matthew Householder and Bill Roper.
Building on the success of its predecessor, Diablo (1997), Diablo II was one of the most popular games of 2000 and has been cited as one of the greatest video games ever made. Major factors that contributed to the game's success include its continuation of popular fantasy themes from the previous game and its access to Blizzard's free online play service, Battle.net. An expansion to the game, Diablo II: Lord of Destruction, was released in 2001.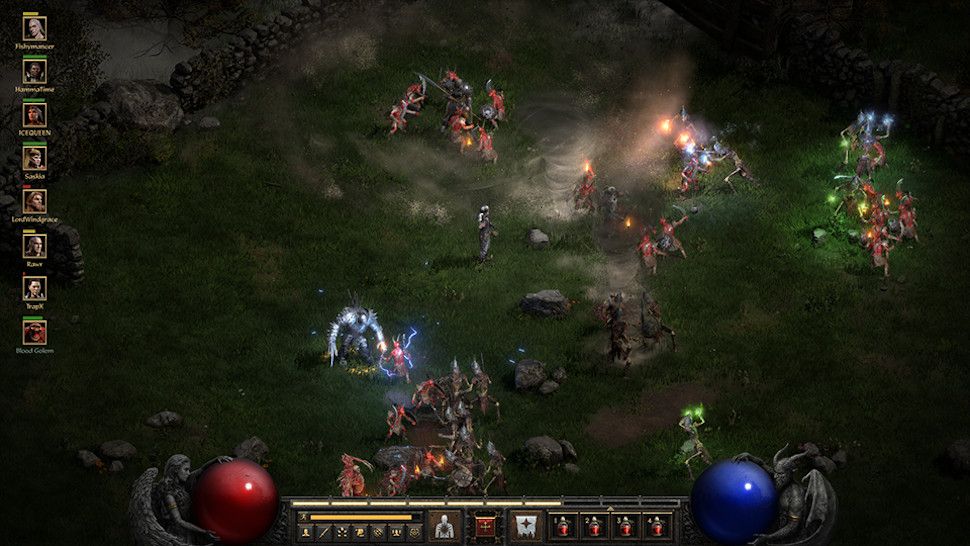 Diablo II's storyline progresses through four chapters or "Acts". Each act follows a predetermined path, but the wilderness areas and dungeons between key cities are randomly generated. The player progresses through the story by completing a series of quests within each act, while there are also optional side dungeons for extra monsters and experience. In contrast to the first Diablo, whose levels consisted of descending deeper and deeper into a Gothic-themed dungeon and Hell, Diablo II's environments are much more varied. Act I is similar to the original Diablo; the Rogue Encampment is a simple palisade fort, with plains and forests making up the wilderness area, and the Monastery resembles the typical medieval fortress. Act II mimics Ancient Egypt's desert and tombs; Lut Gholein resembles a Middle Eastern city and palace during the Crusades. Act III is supposedly based on the Central American jungles; Kurast is inspired by the lost Mayan civilization. Act IV takes place in Hell and is the shortest, with just three quests compared to the other Acts that have six.
The Lord of Destruction expansion adds the fifth chapter Act V which continues the story where Act IV left off. Act V's style is mainly mountainous as the player ascends Mount Arreat, with alpine plateaus and icy tunnels and caverns. Occasional portals can take the player to dungeons in Hell (seen in Act IV) for extra monsters and experience. After reaching the summit of Arreat, the player gains access to the Worldstone Keep (whose architecture may be reminiscent of Angkor Wat and other Hindu temples).
In addition to the acts, there are three sequential difficulty levels: Normal, Nightmare, and Hell; completing the game (four Acts in the original or five Acts in the expansion) on a difficulty setting will open up the next level. On higher difficulties, monsters are more varied, stronger and may be resistant or immune to an element or physical damage; experience is penalized on dying, and the player's resistances are handicapped. However, better items are rewarded to players as they go through higher difficulties. A character retains all abilities and items between difficulties, and may return to a lower difficulty at any time, albeit it is not possible to re-play the quests that are already completed.
Players can create a hardcore character. In normal mode, the player can resurrect their character if killed and resume playing, while a hardcore character has only one life. If killed, the character is permanently dead and unplayable. In addition, all items and equipment on that character will be lost unless another friendly character has the "loot" icon checked. Standard and hardcore characters play on separate online channels; as such a hardcore player can never appear in the same game session as a standard player.
DOWNLOAD: Diablo II: Lord of Destruction
BACKUP LINK: Diablo II: Lord of Destruction