Mega Man X6, known as Rockman X6 (ロックマンエックス6) in Japan, is a video game developed and published by Capcom. It is the sixth main entry in the Mega Man X series. The game was first released on the PlayStation in Japan on November 29, 2001 and was later made available in both North America and Europe.
The plot of Mega Man X6 takes place during the 22nd century where humans and intelligent robots called "Reploids" live together. The game follows shortly after the events of Mega Man X5 in which planet Earth was devastated by an attack by the "Maverick" leader Sigma and the protagonist Zero sacrificed his own life to save it. As the world recovers, a Maverick known only as the "Zero Nightmare" has begun spreading chaos. Zero's comrade X, curious of its name, seeks out this new threat. Like past games in the series, Mega Man X6 is an action-platformer in which the player tackles a series of stages and adds the unique weapon of each boss to X's arsenal.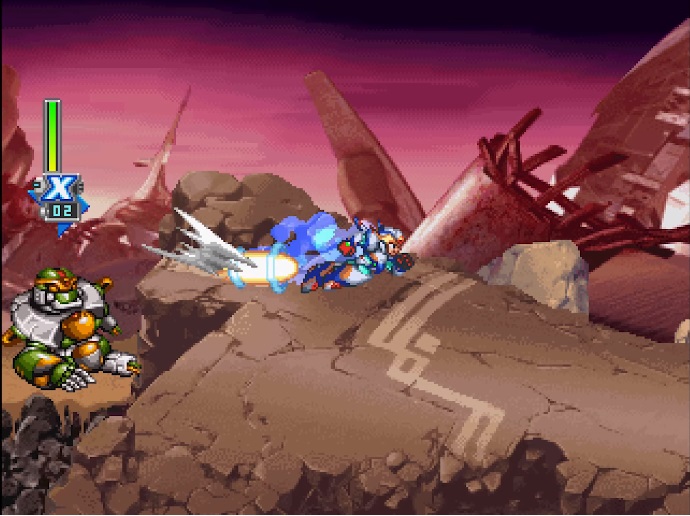 The gameplay is very similar to Mega Man X5. The player can select X with the option to outfit him with different armors offering unique abilities (most of which have to be downloaded, as always, through Dr. Light's hidden capsules.) Zero can be unlocked after finding and defeating the Zero Nightmare, bringing his own weapons and techniques to the fold, including a refined Z-Saber fighting style. Both characters can be equipped with various power-up items earned after rescuing certain Reploids.
Mega Man X6 has an increased emphasis on rescuing Reploids over previous titles in the series. Whereas previous games rewarded the player with health or an extra life, Mega Man X6 rewards the player with additional parts or other permanent prizes. Rescuing Reploids was made more difficult in this game with the addition of the Nightmare, which makes any Reploid it infects evil, thus rendering the Reploid impossible to save. The parts system was altered as well. Rather than attach a certain part to a certain armor, parts are attached to the character itself. The number of parts that can be equipped at once is dependent on the player's rank, which is increased by harvesting Nightmare Souls.
Depending on the player's actions during the game, it's possible to unlock what are normally the final set of stages, namely Gate's laboratory, much earlier than normal than what is considered the norm for the X series; with the exception of Mega Man X5, players normally had to defeat the 8 main bosses before unlocking the final stages. In X6, defeating both the Zero Nightmare and High Max, Isoc's bodyguard, are enough to unlock Gate's laboratory before even defeating most of the main bosses.
DOWNLOAD: Mega Man X6
BACKUP LINK: Mega Man X6