[PC Game] Command & Conquer: Red Alert 2
|
Command & Conquer: Red Alert 2 is a real-time strategy video game which was released for Microsoft Windows on October 24, 2000 as the follow-up to Command & Conquer: Red Alert. Red Alert 2 picks up at the conclusion of the Allied campaign of the first game. Its expansion pack is Command & Conquer: Yuri's Revenge, released a year later in 2001. Red Alert 2 was principally developed by Westwood Pacific in collaboration with Westwood Studios.
Command and Conquer: Red Alert 2 contains two playable factions, the Soviets and the Allies, which both previously appeared in Command & Conquer: Red Alert. The single player campaign is structured in an alternate-ending mode as opposed to a progressive story mode. Like its predecessor, Red Alert 2 features a large amount of full motion video cutscenes between missions and during gameplay, with an ensemble cast including Ray Wise, Udo Kier, Kari Wuhrer, and Barry Corbin.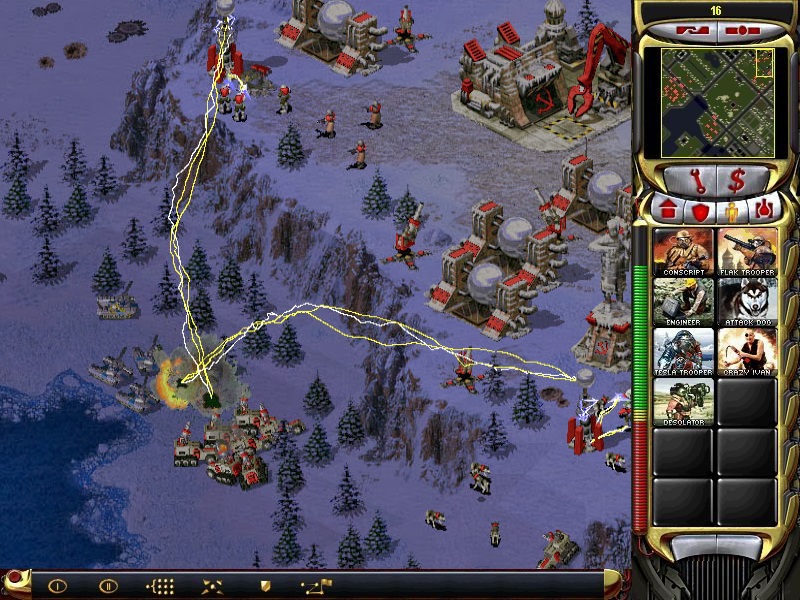 The main objective of the game is to defeat enemy commanders, played by AI or human opponents, by destroying their bases to the point of enemy capitulation. Players must also work to defend their own bases to maintain their ability to collect money and produce units, both of which are essential in achieving the main objective. Once all enemy commanders have been defeated, a winner is declared.
Every aspect of gameplay in the game is based on the collection of money. In the game, money can be collected by several means. The most common is using miner trucks to gather ore and/or gems and transport them to a refinery. A player can also gain a lasting income by capturing oil derricks (neutral buildings that are present in some maps). There also are two one-time sources of money for Allied and Soviet players, namely: collecting random crates which are present in the map and selling off buildings which are controlled by the player. Allied players have a third one-time source of money, which involves using a spy to steal an opposing player's money. The money is spent on constructing and repairing buildings and units. In both cases, players may start construction before having the full cost in one's reserves, as construction simply pauses if a player runs short of money.
The various nations are members of either the Soviet or the Allied factions, which are loosely based on the real life factions of the Cold War. One of the major praises of Red Alert 2 over the original Red Alert game was that playing as a specific country made a bigger difference. While every country has the basic buildings and units, each nation has a special unique unit, ability, or structure.
DOWNLOAD: Command & Conquer: Red Alert 2
BACKUP LINK: Command & Conquer: Red Alert 2
Password: toithuthuat.com