Terraria is an action-adventure sandbox game developed by Re-Logic. The game was first released for Microsoft Windows on May 16, 2011, and has since been ported to several other platforms. The game features exploration, crafting, building, painting, and combat with a variety of creatures in a procedurally generated 2D world. Terraria received generally positive reviews, with praise given to its sandbox elements. The game had sold over 35 million copies by the end of 2020.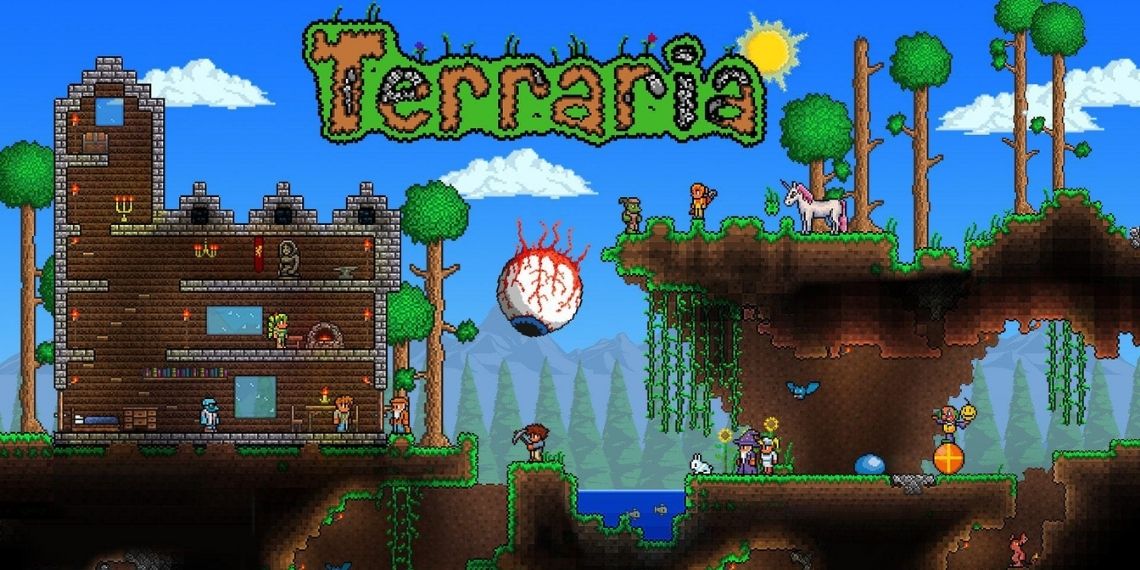 Terraria is a 2D sandbox game with gameplay that revolves around exploration, building, crafting, combat, survival, and mining, playable in both single-player and multiplayer modes. The game has a 2D sprite tile-based graphical style reminiscent of the 16-bit sprites found on the Super NES. The game is noted for its classic exploration-adventure style of gameplay, similar to games such as the Metroid series and Minecraft.
The game starts in a procedurally generated world, with players starting out with a few basic tools to get them started. The game's world is made up of several layers of tiles that the player can interact with and modify. Many resources, such as metal ores, can be found while exploring caves. The player begins with low health and mana, which can be increased by finding certain items. Some resources may only be found in certain areas of the map, stored in common and rare containers, or dropped by certain enemies. The player uses resources to craft new items and equipment at an appropriate crafting station for that recipe. For example, tables or other items can be crafted at a workbench, bars can be smelted from ore at a furnace, and armor can be crafted at an anvil. Several advanced items in Terraria require multiple crafting operations where the product of one recipe is used as an ingredient for another.
The player can encounter many different types of enemies in Terraria, the occurrence of which depends on several factors including time, location, and random events. The player can fight against enemies with swords, flails, bows, guns, magic spells, and summoned minions. The player may also battle bosses that utilize a number of different combat mechanics and can drop rare items. Bosses are summoned by using certain items or when certain criteria are met. The defeat of these bosses is directly tied to in-game progression, save for a few optional bosses. Defeating a certain one advances the game into "hardmode", which adds many new enemies throughout the world, as well as new NPCs and items.
By completing specific goals, such as defeating a boss or obtaining a certain item, players can attract non-player characters (NPCs) to occupy structures or rooms they have built, such as a merchant, nurse, or wizard. Some NPCs can be acquired by finding them throughout the world and will then reside in player-created houses after being rescued. Players may then buy or sell items and certain services from NPCs with coins found in the world. The game features many different biomes and areas, which are each home to a unique set of enemies and challenges. Three biomes, specifically the Corruption, Crimson, and the hardmode-exclusive Hallow, will naturally expand by slowly overtaking and converting blocks in adjacent ones.
"Expert" and "Master mode" are difficulty modes that increase the challenge of the game in exchange for some exclusive items. "Journey" mode allows players to duplicate items, adjust the world's difficulty, and control weather and time at will while playing. Terraria has support for mods, which is facilitated by the third-party tModLoader. It later received official support when it was released as free downloadable content alongside the "Journey's End" update in 2020 on Steam.
DOWNLOAD: Terraria
BACKUP LINK: Terraria