[PS1 Game] Twisted Metal 2
Twisted Metal 2 (known as Twisted Metal: World Tour in Europe and Twisted Metal EX in Japan) is the second and most successful game in the vehicular combat series, Twisted Metal. It was developed by the game studio SingleTrac, published by Sony, and released in 1996 for PlayStation and Microsoft Windows.
The Microsoft Windows version features slightly cut-down graphics compared to the PlayStation version but doesn't require a 3D accelerator video card. It also features multiplayer mode over a modem line or Internet.
Two years after its release, Twisted Metal 2 was re-released as a PlayStation Greatest Hits game, however under the developer 989 Studios instead of SingleTrac. It was also released for download in Japan and North America on the PlayStation Network in 2007.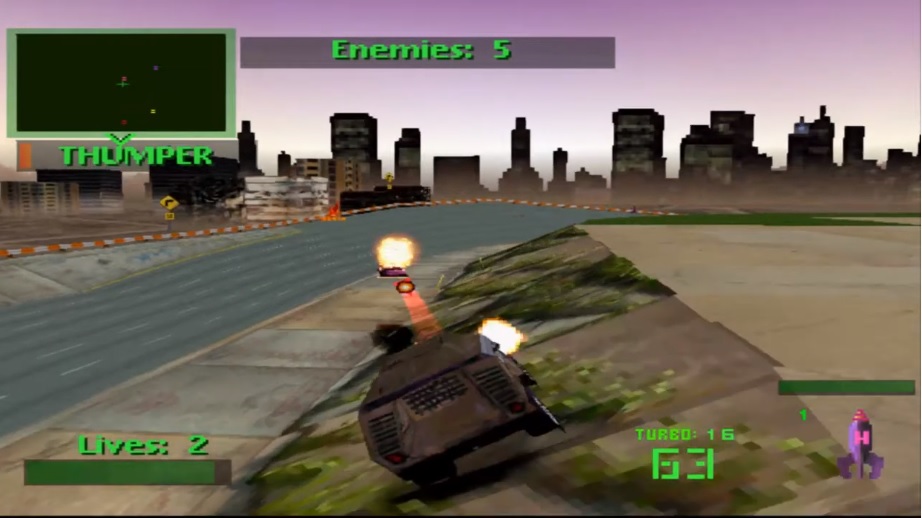 In 2006, Los Angeles is in ruins and its citizens left to struggle for survival after the conclusion of Twisted Metal, a brutal contest held by Calypso, exactly one year earlier on Christmas Eve. Aboard his airship (running the ticker "CALYPSO RULER OF THE EARTH") in the skies over the destroyed City of Angels, Calypso wonders where the next Twisted Metal will take place; fourteen of the world's best drivers are already assembled to compete for whatever prize they desire. Ultimately, Calypso decides that the world itself shall serve as a battleground. In addition to the remains of Los Angeles, drivers will also battle in Moscow, Paris, Amazonia, New York City, Antarctica, Holland, and Hong Kong.
After defeating all the opponents in Amazonia, the player must face Minion before proceeding to New York City. The Dark Tooth boss fight takes place after the player defeats all the opponents in Hong Kong; once Dark Tooth (and his flaming head) is defeated, the driver meets with Calypso in New York to receive their prize.
DOWNLOAD: Twisted Metal 2
BACKUP LINK: Twisted Metal 2