[SNES Game] Harvest Moon
|
Harvest Moon (牧場物語, Bokujō Monogatari, lit. "Farm Story") is a farm simulation role-playing game developed by Amccus for the Super Nintendo Entertainment System. The game first was released in Japan in 1996, in North America in 1997, and in Europe in 1998. The European version shipped with language localizations for Germany and France. It is the first game in the long-running Story of Seasons series, previously known as the Harvest Moon series in western territories. The game has been re-released on the Satellaview, Nintendo 3DS, Wii, and Wii U.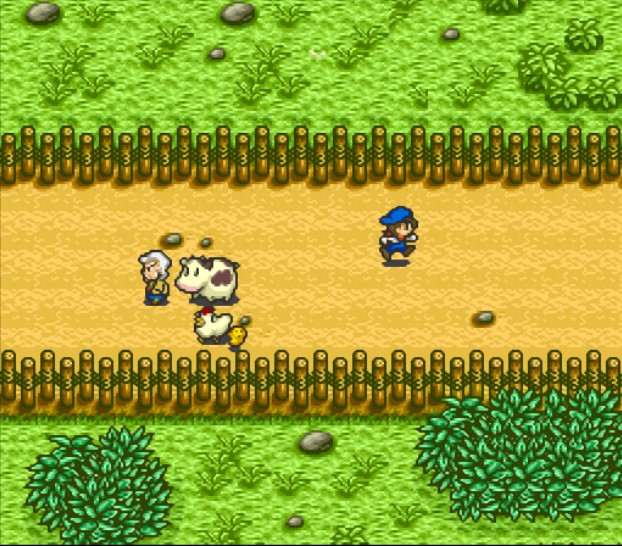 The game follows a young man charged with maintaining the farm he inherits from his grandfather. The primary objective is to restore and maintain a farm that has fallen into disrepair. The player decides how to allocate time between daily tasks, such as clearing land, planting crops, selling harvests, raising livestock, attending festivals, building relationships with villagers, and foraging.
For vegetables to develop, they must receive water each day; lack of water does not kill crops, but prevents them from growing. Animals must be fed once a day to keep them producing. While the only care that chickens require is feeding, cows must be continually talked to, brushed, and milked to retain their health. A cow may become sick if not fed for a day and, if untreated, sickness can lead to death. Chickens may die if left outside, where they can be blown away in a storm or eaten by wild dogs. After dark, the only business in town that the player can access is the bar, where a number of non-player characters gather to drink and talk.
DOWNLOAD: Harvest Moon
BACKUP LINK: Harvest Moon