[PC Game] Final Fantasy VII
|
Final Fantasy VII is a 1997 role-playing video game developed by Square for the PlayStation console. It is the seventh main installment in the Final Fantasy series. Published in Japan by Square, it was released in other regions by Sony Computer Entertainment and is the first in the main series with a PAL release. The game's story follows Cloud Strife, a mercenary who joins an eco-terrorist organization to stop a world-controlling megacorporation from using the planet's life essence as an energy source. Events send Cloud and his allies in pursuit of Sephiroth, a former member of the corporation who seeks to harm the planet and become a god. During the journey, Cloud builds close friendships with his party members, including Aerith Gainsborough, who holds the secret to saving their world.
Development began in 1994, originally for the Super Famicom. After delays and technical difficulties from experimenting on several real-time rendering platforms, Square moved production to pre-rendered video, necessitating the huge capacity of the CD-ROM format and therefore departing Nintendo for the PlayStation. Veteran Final Fantasy staff returned, including series creator and producer Hironobu Sakaguchi, director Yoshinori Kitase, and composer Nobuo Uematsu. The game is the first in the series to use full motion video and 3D computer graphics, superimposing 3D character models over 2D pre-rendered backgrounds. Final Fantasy VII introduced more widespread science fiction elements and a more realistic presentation, while the gameplay systems remained largely similar to previous entries, with the addition of new elements such as Materia, Limit Breaks, and new minigames. The staff of more than 100 had a combined development and marketing budget of around $80 million.
Assisted by a large promotional campaign, Final Fantasy VII was a commercial success and received widespread critical acclaim, selling over 10.8 million units worldwide. It remains widely regarded as a landmark game, and as one of the most influential and greatest video games ever made. It won numerous Game of the Year awards, and was acknowledged for boosting sales of the PlayStation and popularizing console role-playing games worldwide. Critics praised its graphics, gameplay, music, and story, although its original English localization received criticism. Its success has led to enhanced ports on various platforms, a multimedia sub-series called the Compilation of Final Fantasy VII, and the ongoing multipart high-definition Final Fantasy VII Remake, the first installment of which was released in 2020.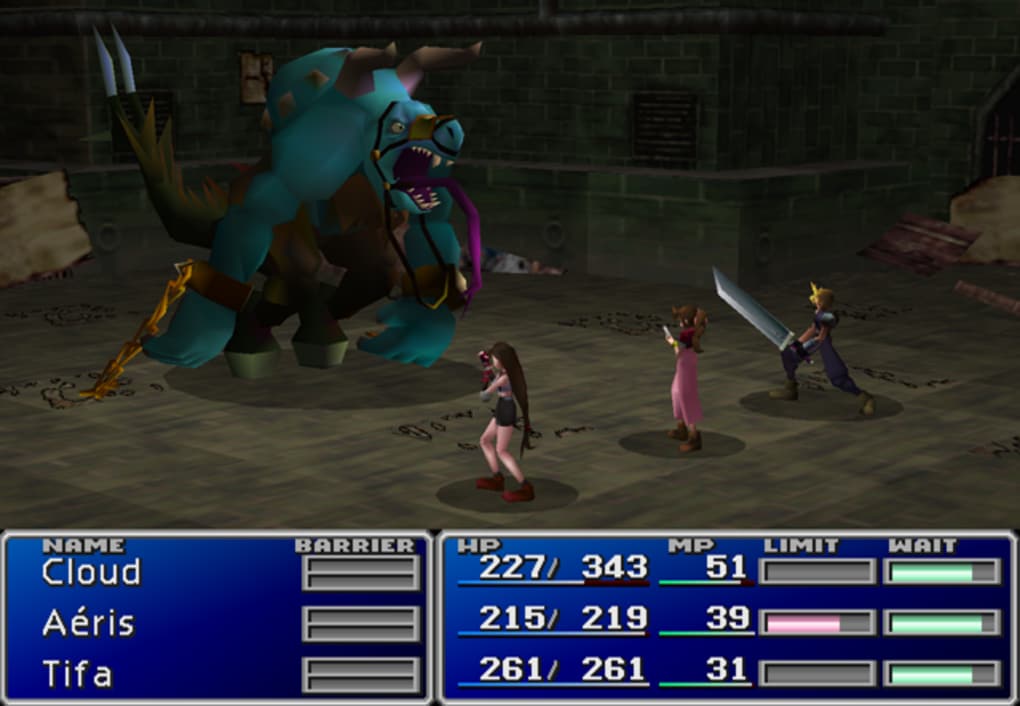 The gameplay of Final Fantasy VII is mostly comparable to earlier Final Fantasy games and Japanese role-playing games. The game features three modes of play: the world map, the field, and the battle screen. At its grandest scale, players explore the entire world of Final Fantasy VII on a 3D world map. The world map is littered with representations of areas for the player to enter, including towns, environments, and ruins. Natural barriers—such as mountains, deserts, and bodies of water—block access by foot to some areas; as the game progresses, the player receives vehicles that help traverse these obstacles. Chocobos can be found in certain spots on the map, and if caught, can be ridden to areas inaccessible by foot or vehicle. In field mode, the player navigates fully scaled versions of the areas represented on the world map. For the first time in the series, this mode is represented in three-dimensional space. The player can explore the environment, talk with characters, advance the story, and initiate event games in this mode. Event games are short minigames that use special control functions and are often tied into the story. While in field mode, the player may also find shops and inns. Shops provide an opportunity to buy and sell items that can aid Cloud and his party, such as weapons, armor, and accessories. If the characters rest at an inn, their hit points and mana points will be restored, along with any abnormalities contracted during battles.
In a cavern, three people face a dragon. Along the bottom is a blue display showing each character's health, magic energy, and waiting time before their turn in battle.
A battle scene with Cloud, Barret, and Tifa facing a dragon. In this given moment, the player must choose a command for Cloud to perform.
At random intervals on the world map and in field mode, and at specific moments in the story, the game will enter the battle screen. This screen places the player characters on one side, the enemies on the other, and employs an "Active Time Battle" (ATB) system in which the characters exchange moves until one side is defeated. The damage (or healing) dealt by either side is quantified on screen. Characters have many statistics that determine their effectiveness in battle; for example, hit points determine how much damage they can take, and magic determines how much damage they can inflict with spells. Each character on the screen has a time gauge; when a character's gauge is full, the player can input a command for that character. The commands change as the game progresses, and are dependent on the characters in the player's party and their equipment. Commands may include attacking with a weapon, casting magic, using items, summoning monsters, and other actions that either damage the enemy or aid the player characters. Final Fantasy VII also features powerful, character-specific commands called Limit Breaks, which can be used only after a special gauge is charged by enemy attacks. After being attacked, characters may be afflicted by one or more abnormal "statuses", such as poison or paralysis. These statuses and their adverse effects can be removed by special items or abilities. When all the enemies are defeated, the battle ends and the player may be rewarded with money, items, and experience points. If the player is defeated, it is game over and the game must be restored to the last save point.
When not in battle, the player can use the menu screen. On this screen, the player can review each character's status and statistics, use items and abilities, change equipment, save the game (when on the world map or at a save point), and manage orbs called Materia. The main method of customizing characters in Final Fantasy VII, Materia may be added to equipment to provide characters with new magic spells, monsters to summon, commands, statistical upgrades, and other benefits. Materia levels up with their own experience point system and can be combined to create different effects.
DOWNLOAD: Final Fantasy VII
BACKUP LINK: Final Fantasy VII