[PC Game] Warcraft III: Reign of Chaos
|
Warcraft III: Reign of Chaos is a high fantasy real-time strategy computer video game developed and published by Blizzard Entertainment released in July 2002. It is the second sequel to Warcraft: Orcs & Humans, after Warcraft II: Tides of Darkness, the third game set in the Warcraft fictional universe, and the first to be rendered in three dimensions. An expansion pack, The Frozen Throne, was released in July 2003. Warcraft III is set several years after the events of Warcraft II, and tells the story of the Burning Legion's attempt to conquer the fictional world of Azeroth with the help of an army of the Undead, led by fallen paladin Arthas Menethil. It chronicles the combined efforts of the Human Alliance, Orcish Horde, and Night Elves to stop them before they can corrupt the World Tree.
In the game, as in many real-time strategy (RTS) games, players collect resources, train individual units and heroes, and build bases in order to achieve various goals (in single-player mode), or to defeat the enemy player. Four playable factions can be chosen from: Humans, Orcs, (both of which appeared in the previous games) and two new factions: the Night Elves and the Undead. Warcraft III's single-player campaign is laid out similarly to that of StarCraft, and is told through the races in a progressive manner. Players can also play matches against the computer, or against others—using local area networking (LAN) or Blizzard's Battle.net gaming platform.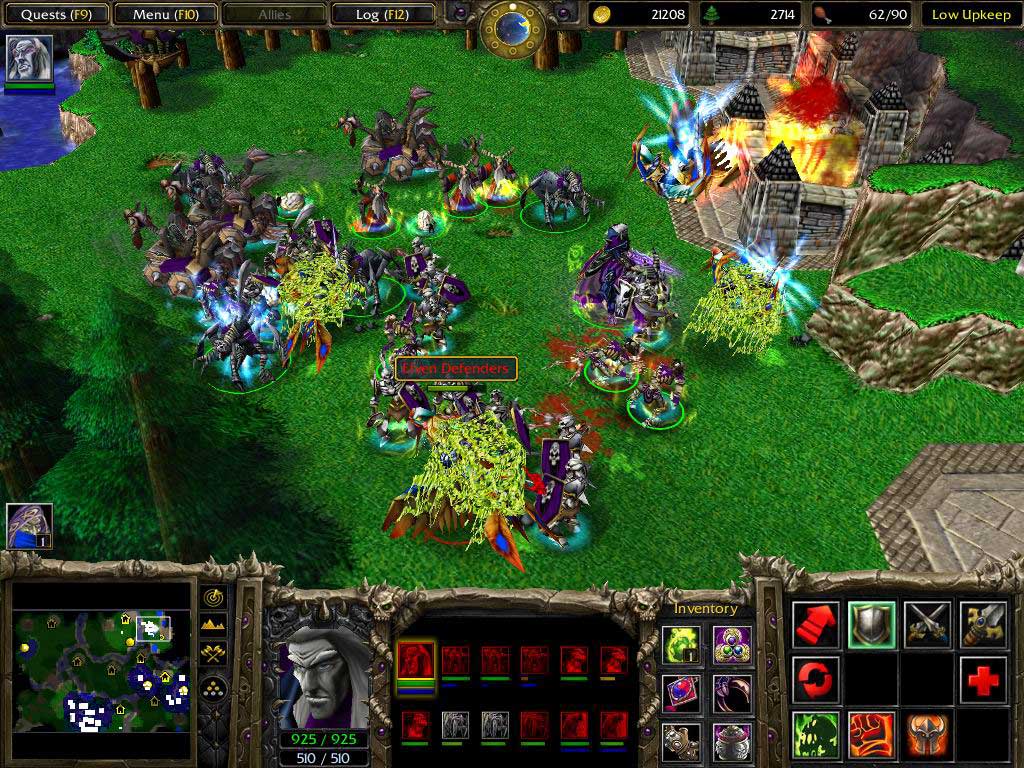 Warcraft III takes place on a map of varying size, such as large plains and fields, with terrain features like rivers, mountains, seas, or cliffs. The map is initially hidden from view and only becomes visible through exploration. Areas no longer in sight range of an allied unit or building are covered with the fog of war, meaning that while the terrain remains visible, changes such as enemy troop movements and building construction are not. During a game, players must establish settlements to gain resources, defend against others, and train units to explore the map and fight computer controlled foes. There are three main resources that are managed in Warcraft III: gold, lumber, and food. The first two are required to construct units and buildings, while food restricts the maximum number of units that can be possessed at the same time. Additionally, a new "upkeep" system means that producing units over certain amounts will decrease the amount of gold one can earn, compelling players to focus on playing with a limited number of units to avoid penalties.
The game displays units and buildings as well as the environment from a classical top-down perspective with a slight angle that can only be zoomed and rotated slightly. The game features a fixed interface in the bottom of the screen that displays a mini-map, the information about the currently selected unit or group of units and possible actions for this unit or building. If multiple units are selected, the game automatically groups them by type, allowing all units of the same type to be given special commands (like using their skills). A small top bar displays the current time of day as well as the currently owned resources and the current upkeep level. The top left corner displays a portrait of the player's hero(es) for quick access. If worker units have no jobs to do, their icons are displayed in the bottom left corner for easy assignment.
Warcraft III features four playable factions: The Human Alliance — a coalition of humans, dwarves, and high elves — and the Orcish Horde — composed of orcs, trolls, and minotaur-inspired tauren — return from the previous games while the Undead Scourge and the Night Elves were added as two new factions. As in StarCraft, each race has a unique set of units, structures, technologies, and base-building methodology.
The game also introduces creeps, computer controlled units that are hostile to all players. Creeps guard key areas such as gold mines or neutral buildings and, when killed, provide experience points, gold, and special items that can be used by heroes. Warcraft III also introduced a day/night cycle to the series. Besides having advantages or disadvantages for certain races, at night most creeps fall asleep, making nighttime scouting safer; however, the line of sight for most units is also reduced. Additionally, some Night Elf units become invisible at night when not moving. Other minor changes to the gameplay were due to the 3D terrain. For instance, units on a cliff have an attack bonus when attacking units at lower elevations.
In addition, Warcraft III adds powerful new units called heroes. For each enemy unit killed, a hero will gain experience points, which allow the hero to level-up to a maximum level of 10. Progressing up a level increases the hero's attributes and also allows the hero to gain new spell options (bringing role-playing video game elements to the series). Certain hero abilities can boost allied units. All heroes can equip items to increase skills, defense, and other abilities. At level six, the hero can obtain an "ultimate" skill that is more powerful than the three other spells that the hero possesses. Heroes can also utilize the various natural resources found throughout the map, such as controllable non-player characters, and markets in which the hero can purchase usable items. Often, hero units become the deciding factor in determining a winner.
Warcraft III's campaign mode is divided into four campaigns, each featuring a different faction. Each campaign is itself divided into chapters, and there is a set order in which they have to be played as the story follows the events in these campaigns. Additionally, an optional prologue campaign that serves as a tutorial can be played before starting the main campaign. Unlike previous Blizzard titles, such as Warcraft II or StarCraft, there are no mission briefings in which plot exposition occurs and objectives are announced; rather, Warcraft III uses a system of "seamless quests". Some plot development happens in an occasional cinematic, but most occurs in-game with cutscenes. Objectives, known as quests, are revealed during the progress of the map. Main quests are those that must be completed to proceed to the next chapter, but there are also optional side quests that are not initially revealed, but can be discovered and completed while following the main questline, oftentimes granting benefits that help with those main objectives.
Through each race's campaign, the player retains control of one or more heroes who slowly grow in experience as the levels progress, which is carried over to subsequent missions, allowing the hero to become more powerful throughout the course of the campaign.
While different in terms of story-line and precise gameplay, all of the different races' campaigns are structured similarly. Each begins with a level involving simple mechanics to introduce the faction and the basic elements of their hero and units. After one or two such levels, the first "building mission" occurs, requiring them to build and maintain a base while competing with one or more enemy forces. The only campaign that breaks this pattern is the Night Elf campaign, whose first mission involves building a limited base. The last level of each race's campaign is an "epic battle" in which a large number of enemy foes has to be defeated.
The game's multiplayer mode uses the Battle.net network. Players can create free accounts in regional "gateways," which helps reduce lag; these are Azeroth (U.S. East), Lordaeron (U.S. West), Northrend (Europe), and Kalimdor (Asia). Unlike previous Battle.net-enabled games, Warcraft III introduced anonymous matchmaking, automatically pairing players for games based on their skill level and game type preferences, preventing cheating and inflating their records artificially. If players want to play with a friend in ranked matches, Warcraft III offers "Arranged Team Games", where a team joins a lobby, and Battle.net will search for another team; as with anonymous matchmaking, the enemy team is not known beforehand.
While campaign games can have many different objectives, the sole objective in multiplayer games is to destroy all the buildings of the opposition. In default melee matches, players can pick their own heroes, and losing one will not end the game. To make the game proceed more quickly, by default the map is fully revealed but covered in the fog of war. Warcraft III, like Blizzard's previous title StarCraft, allows for single and multiplayer replays to be recorded and viewed, allowing a game to be played at slower and faster speeds and viewed from the perspective of all players.
Players can also host custom games, using maps either created in the World Editor, or the default multiplayer scenarios. The map editor allows a variety of custom maps to be created, such as a number of tower defense and multiplayer online battle arena maps, the most notable of which was Defense of the Ancients. The game also offers friends lists and channels for chatting, where players can create custom channels or join Blizzard-approved ones. Warcraft III also allows players to band together to form "clans", which can participate in tournaments or offer a recreational aspect to Warcraft III. Global scores and standings in matchmaking games are kept on a "ladder".
Players have the opportunity to order a new class of units – heroes. The heroes of each race are unique and in addition to the ability to fight, they are endowed with additional abilities that increase as the heroes gain experience and put the hero above any other unit.
DOWNLOAD: Warcraft III: Reign of Chaos
BACKUP LINK: Warcraft III: Reign of Chaos
Password: toithuthuat.com