[PS1 Game] Tear Ring Saga
|
Tear Ring Saga: Chronicles of War Hero Yutona is a tactical role-playing game developed by Tirnanog, a development studio started by Shouzou Kaga, the creator of the Fire Emblem series, after he left Nintendo's Intelligent Systems development team in 1999. The game featured a complicated development and initial release period, with the company receiving legal pressure multiple times from Nintendo, who felt that the game's very similar gameplay and presentation, which also featured the art of Fire Emblem: Thracia 776 artist Mayumi Hirota, infringed on their copyrights on their Fire Emblem intellectual property. Direct ties to Fire Emblem were dropped, and its original title, Emblem Saga, was changed to its final title as to not sound so similar to Fire Emblem, and the game was released in Japan on May 24, 2001, by Enterbrain, for Nintendo's competitor, Sony, on their PlayStation console. Three months after release, Nintendo took them to court over the game, and while Enterbrain was ordered to pay a fee, they ultimately retained the right to sell the game.
The game was viewed as a success, selling over 345,000 copies in its first three months of sale in Japan. The game was never released in any other regions officially, though a rough unofficial fan translation was created and released over a decade later in 2012, with a full translation being released on November 22, 2016. Kaga and Tirnanog went on to release a vastly overhauled sequel, Tear Ring Saga: Berwick Saga, in 2005 for the PlayStation 2, though the title sold less and was ultimately the last game for the company and series.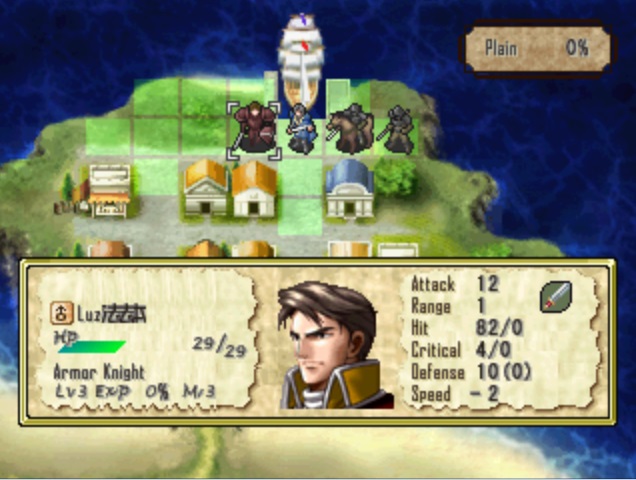 Tear Ring Saga is a tactical RPG with gameplay very similar to the gameplay found in the Fire Emblem series of video games. The game was created as a spiritual sequel to Fire Emblem by the game's creator, Shouzou Kaga, who no longer had the rights to the Fire Emblem intellectual property upon leaving Intelligent Systems and Nintendo. The game shares the same interface, graphical and music style, and overall gameflow. The game involves the player moving characters in a turn based fashion across a large grid from a top-down perspective. The player is tasked with certain objectives, commonly fighting and defeating an entire opposing faction, or a particular member or leader of a faction.
There are two protagonists in the game, Runan and Holmes, each with their own army to command. Though the two armies travel separately for the majority of the game, they cross paths at several points of the story, allowing the player to switch allocations of fighters and items amongst the two groups. Runan's story follows a strict set of scenarios where he battles against an enemy empire, while Holmes' scenario allows for more freedom, allowing the player to ignore the main scenarios in favor of gathering treasure and increase the army's strength.
DOWNLOAD: Tear Ring Saga
BACKUP LINK: Tear Ring Saga
BACKUP LINK: Tear Ring Saga
BACKUP LINK: Tear Ring Saga
Password: galamusic.vn