Mega Man X is an action-platform video game developed and published by Capcom for the Super Nintendo Entertainment System (SNES). It was the first Mega Man game for the 16-bit console and the first game in the Mega Man X series, a spin-off of the original Mega Man series that began on the SNES's predecessor, the Nintendo Entertainment System (NES). Mega Man X was released in Japan on December 17, 1993 and was released in both North America and Europe the following year. Taking place a century after the original Mega Man series, Mega Man X is set in a futuristic world populated by both humans and "Reploids", robots capable of thinking, feeling, and growing like their human creators. Because of these complex attributes, many Reploids are prone to destructive, renegade activity and are thereafter referred to as "Mavericks". The plot of the game follows the protagonist Mega Man X, an android member of a military task force called the "Maverick Hunters". With the help of his partner Zero, X must thwart the plans of Sigma, a powerful Maverick leader wishing to bring about human extinction.
Mega Man X has met with positive reviews for its gameplay, sound, and graphics, as well as its attempt to augment the aging Mega Man franchise. A longterm commercial success on the SNES, Mega Man X has since been ported to personal computers (PCs) and mobile devices, included in the North American Mega Man X Collection for the Nintendo GameCube and PlayStation 2 (PS2), and released on the Virtual Console download service for the Wii, the Wii U, and the New Nintendo 3DS. The game also received a remake on the PlayStation Portable (PSP) titled Mega Man Maverick Hunter X. Nintendo re-released Mega Man X in September 2017 as part of the company's Super NES Classic Edition, and a limited physical re-release for the SNES in celebration of Mega Man's 30th Anniversary due for release in September 2018 and published by iam8bit. The game is also included in the Mega Man X Legacy Collection for the PlayStation 4, Xbox One, Nintendo Switch, and PC.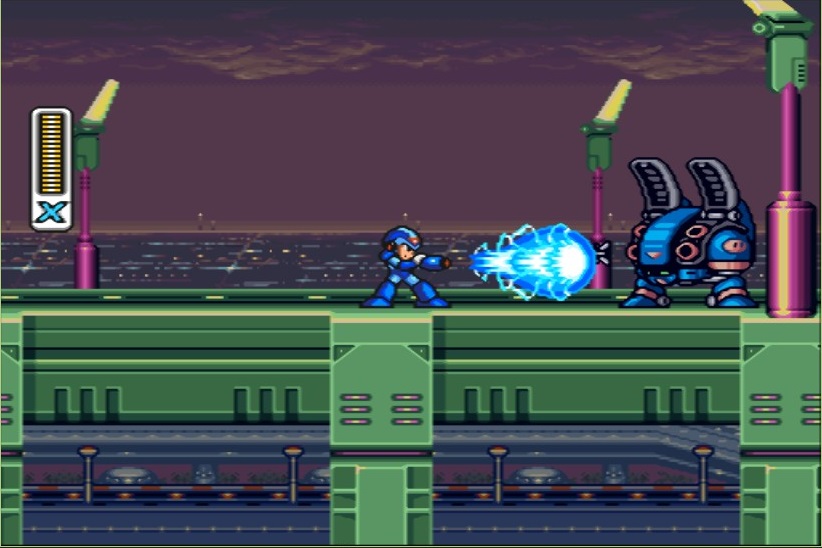 The original Mega Man series on the NES has generally consisted of 2D platform games that focus on run-and-gun gameplay. Mega Man X uses the same basic principles as its precursors but with many added options. The player takes control of the protagonist X, and, after completing an introductory stage, is presented with a stage selection screen that depicts eight boss characters. Each stage is littered with various enemies and hazards and ends with a boss battle against its respective Maverick. Defeating a Maverick allows X to use that Maverick's signature weapon. The player may attempt these eight levels in any order, using weapons gained in one level to overcome challenges in the others. The player can return to the game at a later point using a password system; the password will retain any number of the eight stages cleared and most power-ups. Completing some stages will subtly affect the landscape of others. For example, clearing Storm Eagle's aircraft carrier stage will cause electrical outages in Spark Mandrill's power plant stage. In certain stages, X can hop inside Ride Armors to fight enemies. Ride Armors are bipedal tanks capable of powerful punches.
X's abilities are similar to those in previous Mega Man games, such as running, jumping, and a chargeable arm cannon named the "X-Buster". However, Mega Man X introduces a number of elements not present in the original Mega Man titles. One prominent feature is the ability to scale, slide down, or jump off nearly any wall. Armor part capsules can be found in several stages which display a holographic message from Dr. Light when approached. Each capsule upgrades one of X's body parts—his legs, armor, helmet, or X-Buster—granting the player improved firepower and defense, as well as new abilities, like a dash upgrade. The player can also collect hidden "Heart Tanks" that extend X's maximum life energy and "Sub-Tanks" that can store extra energy for later use. When certain conditions are met, a secret capsule can be unlocked which gives X the ability to perform the "Hadouken", an attack used by characters from Capcom's Street Fighter series.
DOWNLOAD: Mega Man X
BACKUP LINK: Mega Man X