Left 4 Dead is a 2008 multiplayer survival horror game developed by Valve South and published by Valve. The game uses Valve's proprietary Source engine, and is available for Microsoft Windows, Xbox 360 and Mac OS X. Development on the game was completed on November 13, 2008, and two versions were released digitally: A downloadable digital version, released on November 17, 2008, and a digital retail disc version, with a release date determined by region. The digital retail disc version was released in North America and Australia on November 18, 2008, and in Europe on November 21, 2008.
Set during the aftermath of a zombie outbreak on the East Coast, the game puts its four protagonists—dubbed the "Survivors"—against hordes of the infected. There are four game modes: a single-player mode in which allied characters are controlled by AI; a four-player, co-op campaign mode, an eight-player online versus mode, and a four-player survival mode. In all modes, an artificial intelligence (AI), dubbed the "Director", controls level pacing and item placements, in an attempt to create a dynamic experience and increase replay value.
Left 4 Dead was well received by the industry media upon its release, with praise given for its replay value, focus on cooperative play, and movie-like experience. Several criticisms were aimed at the limited level selection and the lack of a narrative. The game has won several publication awards, as well as distinctions from the Academy of Interactive Arts & Sciences and British Academy of Film and Television Arts. As was done with Team Fortress 2, Valve supplemented the game with free downloadable content. The first, called the "Survival Pack", was released on April 21, 2009. The second piece of DLC was charged for on Xbox Live and came in the form of a new Campaign entitled "Crash Course," released for both the PC and Xbox 360 on September 29, 2009. Left 4 Dead was released for the Mac on October 28, 2010.
The popularity of the game led to the development of a sequel, Left 4 Dead 2, which was released on November 17, 2009. A new map for both Left 4 Dead and Left 4 Dead 2, called "The Sacrifice", was released on October 5, 2010. In July 2012, all Left 4 Dead campaigns were ported over to Left 4 Dead 2, with cross-platform multiplayer support between Windows and Mac versions of the game.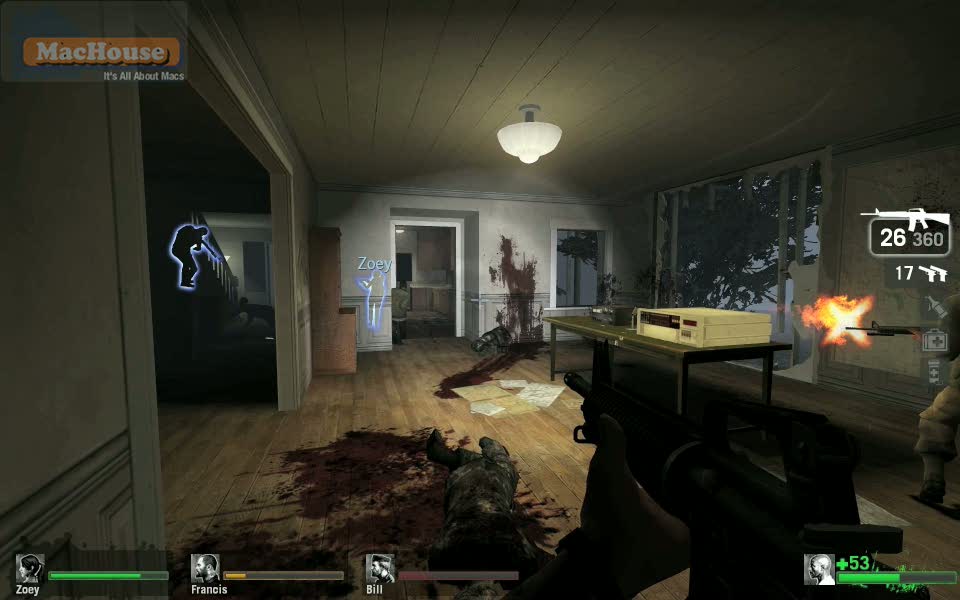 Left 4 Dead is a first-person shooter in which the player takes control of one of four survivors; if human players are not available, the remaining survivors are filled by AI-controlled bots. They play through campaigns fighting off the infected—living humans who have been infected with a rabies-like virus that causes psychosis. The overarching goal is not to clear infected, but only to reach the next safe area alive. This is compounded by the presence of an "AI Director", who tracks each player's current situation, and will add or remove items & infected in response; with the goal of maintaining constant tension and creating a new experience with each playthrough.
While a shooter, the game focuses largely on cooperation and teamwork, and thus eschews some "realism" conventions usual in other FPS games. Colored outlines of teammates are visible through walls to help players stick together and coordinate their movement. If a survivor's health is depleted, they become incapacitated and can only be helped by another survivor, after which they continue playing with lower health. If they are incapacitated twice without healing, the third incapacitation will kill them.
During "Campaign" mode, if a survivor is killed, they will eventually respawn in a closet or small room, but must be freed by another survivor to rejoin the team. The AI will not open "respawn closets", so if all human player survivors are incapacitated, the level will restart. Survivors can share first-aid kits and pain pills, and heal each other. Left 4 Dead has friendly fire, increasing the need for caution & coordination around other survivors.
Via a quick menu, the survivors can communicate and organize with voice commands & callouts. Over 1,000 unique lines were recorded for each survivor. Additional communication of player actions is conveyed through lights; weapon-mounted flashlights and muzzle flashes help players determine when their companions are shooting, performing melee attacks, reloading or moving. (Due to control issues and the likelihood of players using a headset, the Xbox 360 version of Left 4 Dead omits the quick phrases feature.)
DOWNLOAD: Left 4 Dead
BACKUP LINK: Left 4 Dead