[PS2 Game] Tear Ring Saga: Berwick Saga
|
TearRing Saga Series: Berwick Saga (Japanese: ティアリングサーガシリーズ ベルウィックサーガ) is a turn-based strategy role-playing game for the PlayStation 2 developed by Tirnanog, the company founded by Shouzou Kaga following his departure from Intelligent Systems, published by Enterbrain, and released only in Japan on May 26, 2005. It is an indirect sequel to TearRing Saga: Yutona Heroes War Chronicles. This game features numerous differences in gameplay from Yutona Heroes War Chronicles, as well as their spiritual predecessor, the Fire Emblem franchise.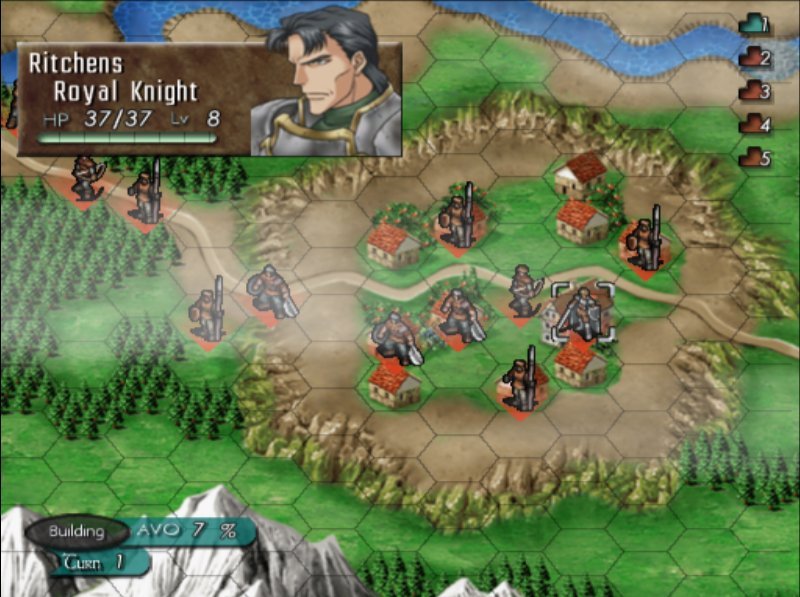 Berwick Saga makes many changes to its core gameplay systems when compared to Fire Emblem, or even its direct predecessor Yutona Heroes War Chronicles. Battles in Berwick Saga play out on isometric hexagonal maps, departing from the top-down square grid maps of Fire Emblem and Yutona Heroes War Chronicles. The turn system is also significantly different, not using a phase system like Fire Emblem, where all of one side's units are moved before another side gets to act. Instead, control alternates between affiliations on a unit-by-unit basis: a player unit moves first, then an enemy unit, then an NPC unit if any exist, then control returns to a player unit. If one affiliation has more units than the others, the side with more units is able to move more units before the other sides get their chance. When one side has control, they can move any unit that has not already acted that turn.
Combat additionally functions differently, using different rules for deciding whether a unit can make a follow-up attack or counterattack. If a unit takes damage in a round of combat, they will not be able to counterattack. In regular circumstances, follow-up attacks only occur if the initiating unit misses their first attack and the opponent misses their counterattack. Range has also been altered, with "0" range now existing as the baseline for all melee weapon types.
Berwick Saga introduces new weapon types and sub-categories for pre-existing weapons. Swords are grouped into blades and maces; the former are heavy but offer strong damage, while the latter are restricted to clerical units and can inflict secondary effects. Lances are one of two sub-categories of spears, being powerful but rare weapons restricted to mounted units. The second sub-category, pitchforks, are novelty weapons used exclusively by one unit and a few enemies. All spears will deal additional damage based on how many spaces their wielders' moved before attacking. Bows and crossbows are treated as separate weapon types, the latter including Ballistae. Bows are 1-2 range, while crossbows are 0-1 range; both types of weapons require arrows to function.
DOWNLOAD: Tear Ring Saga: Berwick Saga
BACKUP LINK: Tear Ring Saga: Berwick Saga
BACKUP LINK: Tear Ring Saga: Berwick Saga